Leave campus and explore the world, take your education abroad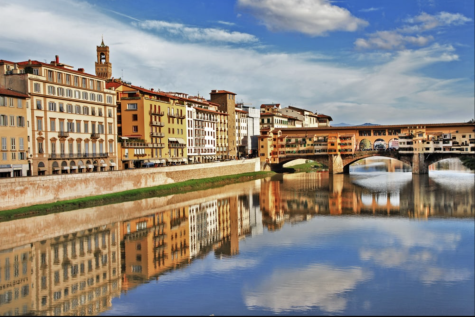 School can get tiring from time to time. Whether you're working towards a transfer degree or working towards receiving your associate's degree, routines are built around coming to campus and fulfilling your day-to-day tasks as a student. The study abroad program in the Riverside Community College District is built for people who want to break that routine travel the world and still pursue the education they seek.
Some of the many benefits the study abroad program at RCCD provides to students is the chance to broaden their educational horizons, learn a new language, and become more independent. Courses being taught abroad are requisite courses that benefit most student majors. Nassef Girgis, Associate Faculty Member at the RCC Study Abroad Office, said that there are both short and long study abroad programs that take place during the Fall (long study), Summer and Winter (short study) terms. Students can take as many as four courses during longer study abroad terms and one course during short terms. "We realize that students can't take a long time off from their work, from their families, and other obligations, that is why shorter terms exist," said Girgis.
Spending less time abroad also means spending less money overall. According to the study abroad page on the RCCD website, students are provided a list of scholarships and grants that can be applied to if necessary. "We as administration try to keep our program affordable. Depending on length and destination, the price varies," said Girgis. The upcoming Fall study abroad trip to Florence, Italy, will cost roughly $9,000. However, financial help is readily available. The Benjamin A. Gilman Scholarship and the CAPA need-based scholarship, highlighted by Girgis, are typically "very generous to students." Students must apply for these scholarships in order to be considered.
If traveling to another country is not fathomable, the virtual global learning program exists too. This program is led by a faculty members who take their current classroom in any of the RCCD classes on campus and engage virtually with a university classroom abroad. This means cultural exchange and mutual projects are still happening, but online. "In the past two years, we've had between 10-12 faculty from the three (Moreno Valley, Riverside, and Norco) Colleges, engage their students with other universities in countries like Jordan and Iraq," said Girgis.
RCCD has been providing yearly study abroad opportunities to students since 1995.
 While the spring deadline has passed for the fall trip to Florence, Italy, students interested in other upcoming study abroad trips are advised to meet with an academic counselor to ensure classes benefit their major. RCCD provides students resources and meetings that guide students through the application process. Students can also get an early start identifying scholarships, grants and other resources to fund study abroad expenses.
Ultimately, the initiative and drive to study abroad must come from the student first. "We provide the resources, now it's your turn to go on and find what is available for you!" said Girgis.