TRiO and ASMVC Host Poetry Night at Diversity Summit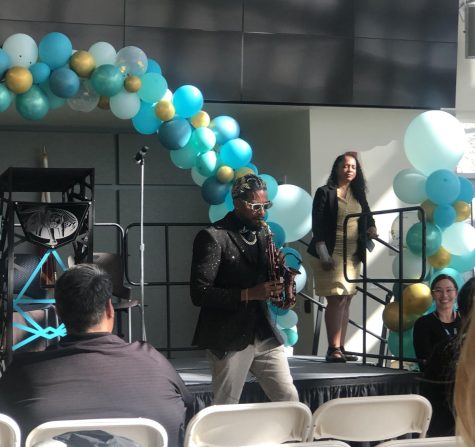 "MVC where you belong, MVC where you matter," shouted Micki Grayson Director of the TRiO program as she greeted the audience on Wednesday evening during the Conscious Expressions 3.0 event, part of the 7th Annual Diversity Summit
Spoken word is an effective literary form that combines aspects of conventional poetry with the stage presence and movement of dance, as well as the lyrical structure and flow of rap music. Writers on Wednesday night, had a chance to showcase their passion as they recited original and well known poetry pieces. The experience was executed  perfectly as students and faculty members from Moreno Valley College shared their conscious expressions through singing, poetry and dance.
The evening performances were kicked off by Andre Chappel and Nehemiah Craig who performed "Love Child 4." Next,  Glena Davis got the crowd off their feet and into the spirit with her wonderful praise dances. The inspirational performances continued as Dr. Angela Gordon Nicholas preformed the poem "Pieces of Dorothy" based on the book by Richard Nelson Bolles, "What Color Is Your Parachute?"
One of the many highlights of the event included featured artists, Poetic Moment and J. Boykin. Poetic Moment, is an award-winning poet, spoken-word artist, filmmaker, educational leader, and professor out of Los Angeles. J. Boykin is a saxophonist who has graced the stage with artists such as Frankie Beverly & Maze, Ledisi, Take 6 and Kirk Whalum,
Poetic Moment, wowed the audience and show her prowess with words as she performed "Essence of Hope" and the thought-provoking "Alive." J-Boykin moved the crowed and serenaded the audience with his saxophone as he made he way through classic r&b and jazz tunes throughout the evening.
Many of the performers who graced the stage at Conscious Expressions 3.0 were reciting their work for the first time in front of an audience.  Among the most captivating first time performers Wednesday evening was Candice "Kandi" Norton. Kandi spoke on her experience dealing with PTSD and anxiety. As she spoke about her anxiety, Kandi began to struggle however she remained calm and determined not to let her PTSD get in the way of her delivering a poignant original piece  titled, "I Am." Once she began, she triumphantly recited her poem and towards the end confidently exclaimed to all in attendance,  "My purpose is to speak to people."
Performances continued throughout the evening and included Jazzmin Jefferson, who performed her original piece "Queen." Dr. Edward Rice got in on the act and performed an emotional poem titled, "Lost Boys" which spoke about the injustice of young black men that lose their life due to gun violence, inspired by the recent tragic incident that involved Kansas City teen Ralph Yarl.
The poetry and art exhibited during Conscious Expressions 3.0. elicited a wide range of emotions. It was clear at moments the audience was swept up by the various performances and overcome by the art that was displayed. The evening was an amazing demonstration of all the art MVC has to offer