Decorated Marine adds diplomas to his list of accomplishments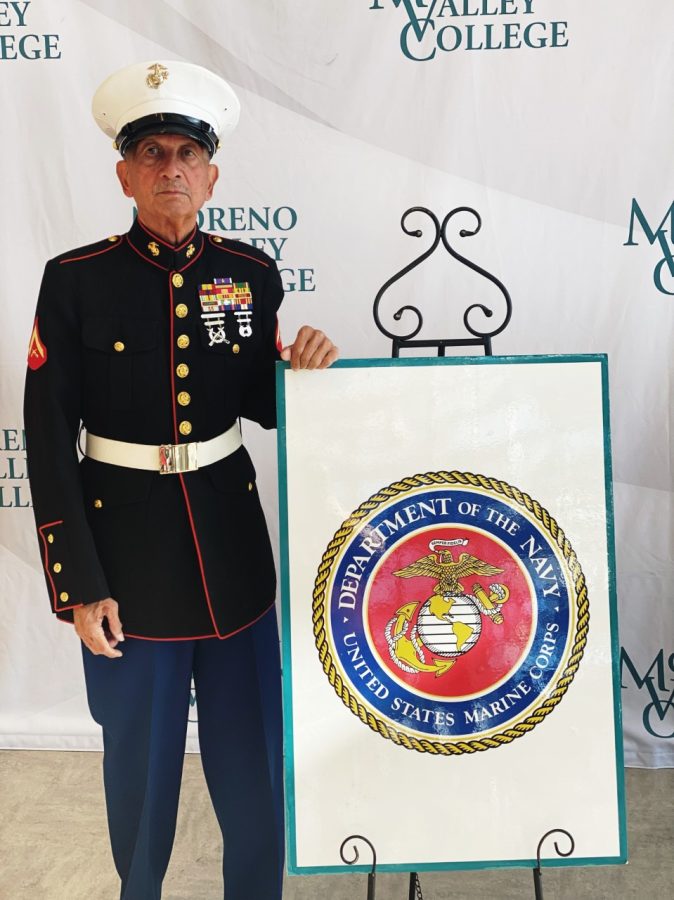 At 72 years young, Albert Rabanes is continuing his education at Moreno Valley College and with four degrees already under his belt he has no plans of stopping anytime soon. 
A veteran is someone who served in the active military, naval, or air service, and was discharged or released under honorable conditions. Veterans make numerous sacrifices for us, such as putting their lives on the line to protect our country and our freedoms. 
There are differing opinions on what constitutes a sacrifice. Some people believe that in order for it to be considered a sacrifice, something of great value must be given up. Others believe that any act done selflessly can be seen as a sacrifice. For Albert, this is second nature. "I just want to be there for people as a counselor," said Rabanes.
A native of Pasadena, California, Rabanes served in the  United States Marine Corps from 1967 – 1970 where he fought in the Vietnam War. He joined the military after completing high school. He started his journey in the Marines as part of a group of seven friends who enlisted together.  Rabanes, the sole survivor of that group, is a recipient of The Purple Heart Medal. He was wounded in combat during the "Tet Offensive" at Da Nang Airbase in Vietnam. 
The Purple Heart Medal is a military decoration awarded to those wounded or killed as a result of enemy action while serving in the military. It is a solemn distinction and means a service member has greatly sacrificed themselves, or paid the ultimate price, while in the line of duty. 
After being discharged from service, veterans often face many difficulties transitioning back into civilian life. One of the challenges veterans routinely encounter is attending college. The prospect of attending can be intimidating for anyone but it can be especially daunting for veterans. Fortunately, there are numerous resources available to help veterans succeed in achieving their academic goals. This is part of what motivates Rabanes. "I want to help not just veterans, but anyone I can help," said Rabanes.
The former marine has been a student at Moreno Valley College since 2019. In that time, he has earned degrees in: Military Social Work, Social Work, Human Services, and Employment Services. He is currently pursuing a degree in Alcohol and Drug Counseling. 
When asked why he still wants to serve others after already giving so much of himself he simply stated, "I'm just passionate about helping people."