Moreno Valley College Unveils Latest Addition to Campus, "MVC In Bloom"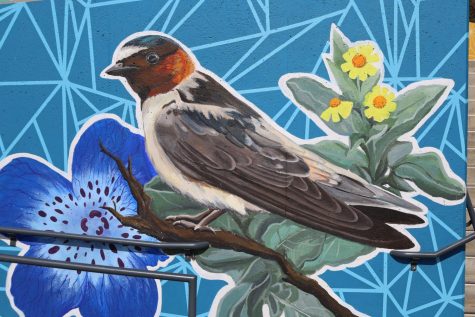 A new mural titled "MVC in Bloom" was unveiled Thursday, May 18th at Moreno Valley College. The year long project was a joint collaboration between MVC alum and local artist Rosy Cortez, the MVC Art Department and its students. The painting depicts colorful imagery representative of the MVC landscape, native flora and fauna from the region. 
 The mural sprawls across the concrete facades that frame the main stairway of the Humanities Building, which has high visibility from Coudures Plaza and campus entrances at College Drive and Krameria Street. 
The mural was unveiled at a ceremony attended by college officials, city officials, students, faculty, and staff. Moreno Valley's Mayor, Ulises Cabrera was on hand for the event. Mayor Cabrera said more art projects will be coming to the city in the future, thanks to the city's public art initiative. "Moving forward the result of that initiative is going to be additional funding for public art, for murals, for crosswalk art, for sculptures and I think the most important part of that is supporting our local talent," said Mayor Cabrera.
In her remarks during the event, MVC President Dr. Robin Steinbeck said the mural wouldn't have been possible without a full community effort. "We wanted to have a mural that reflected who we are at Moreno Valley College," said Dr. Steinbeck. 
"
The mural is not only visually compelling it is layered with symbolisms of joy, connection and transformation.
— MVC Art Gallery Director, Ally Johnson
"It is a force that has been felt by so many on campus," said MVC Art Gallery Director, Ally Johnson. Johnson also added, "When Rosy (Cortez) first came to campus for the initial brainstorming last semester, we asked for a mural that would capture the essence of who we are and what we're doing here at Moreno Valley College." 
Cortez is an Inland Empire artist, who attended Moreno Valley College before transferring to California State Long Beach where she received a Bachelor of Fine Arts in Studio Art with a concentration in Figure Painting. She is a well-known artist who has helped fuel a mural renaissance in Riverside, California. 
During the event Cortez thanked volunteers and supporters for their contributions. "It really was a huge honor and a full-circle moment for me to be able to come back, having taken some of my first art classes here," she said. Cortez went on to reveal that there are some easter eggs hidden in the mural for those who look closely. 
The School of Visual and Performing Arts and the MVC Art Gallery received a RCCD Century Circle Grant through the RCCD Foundation in September of 22 to complete the mural.