MVC's 2023 Commencement Speaker: Alondra Aguiniga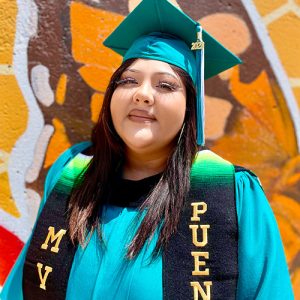 Hard work and persistence definitely pay off and MVC's 2023 Commencement Speaker, Alondra Aguiniga is living proof.
Alondra is honored to give the commencement speech this year, as it's been one of her dreams.  She is happy to share her words with others, and hopes she can be an inspiration to those attending graduation.
Alondra has been a student at MVC for two years, and majored in Administration of Justice. However, on Friday she will receive two associates degrees: one in Administrative Justice, and the other in Social and Behavioral Sciences.  "With my degrees, I plan to become a lawyer or a counselor, and listen and help people who have been put in situations in life that they can't get out of, I want to be their voice," said Aguiniga. It's clear, she wants to make the world a better place and help those in need.
During her time at MVC, Aguiniga has been involved with the Puente Program. She's thankful she joined the program as she wanted to get more involved with school, but wanted to do something that was the right fit for her. As a Latina, Puente felt perfect as it mainly focuses on students who are unrepresented in higher division education. With delight, Alondra says, "Honestly I don't think I'd be where I am if it wasn't for Puente." She recommends students join Puente, as it can help them discover more about themselves and their community.
As she prepares to take the stage at graduation, the West Covina natives is reminded that the road she took to achieving her goals was nowhere near simple. While attending MVC, Aguiniga worked two jobs. She admits that at times it was a hassle to attend classes and get the work done that was required. "Some of my least favorite moments are how much time with family I had to give up," Aguiniga recalls. Alondra loves her family, so not getting to spend as much time with them was hard.
However, her family was her main inspiration throughout her journey at MVC. She wanted to make them proud, and continue to work hard just like they did. Her grandfather, who was an immigrant, spent a majority of his life working to provide for her family. Her mother dedicated her life to being there for her kids, made the sacrifice to discontinue school as a result. As a first-generation college student, she wants to be an inspiration not only to her younger siblings, but to her future children as well.
Alondra has come a long way and she insists that her younger self would be proud of how far she's come. Even though it doesn't feel that she's exactly where little Aguiniga wanted to be, she won't give up. She's proven that she can overcome any obstacles in her way and accomplish her goals. Graduating from MVC is just the first step towards fulfilling her dreams and becoming everything she's meant to be.